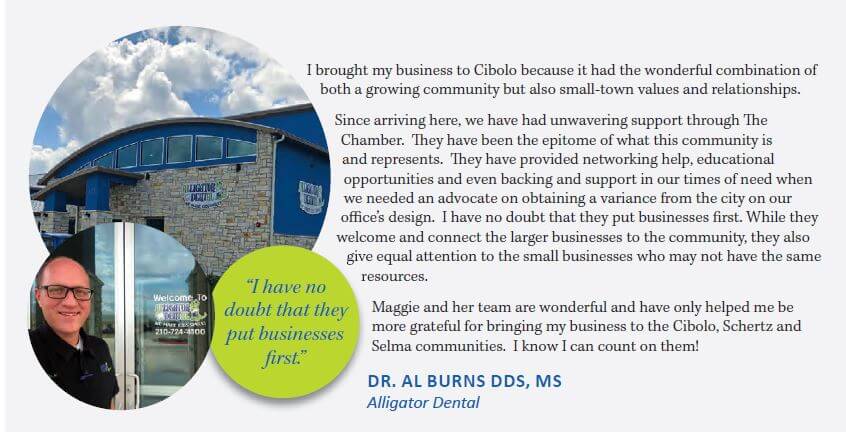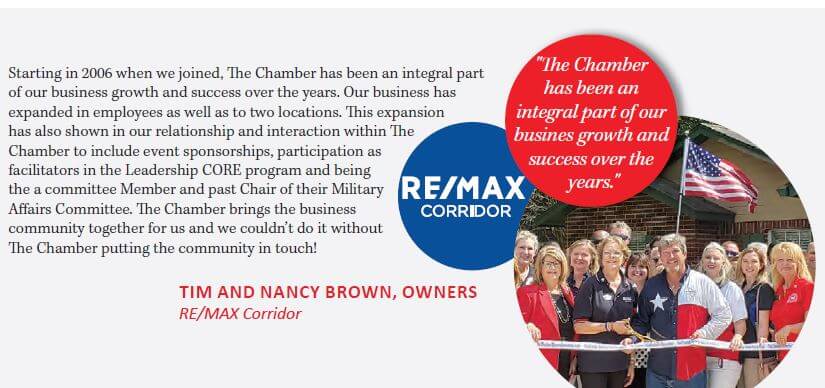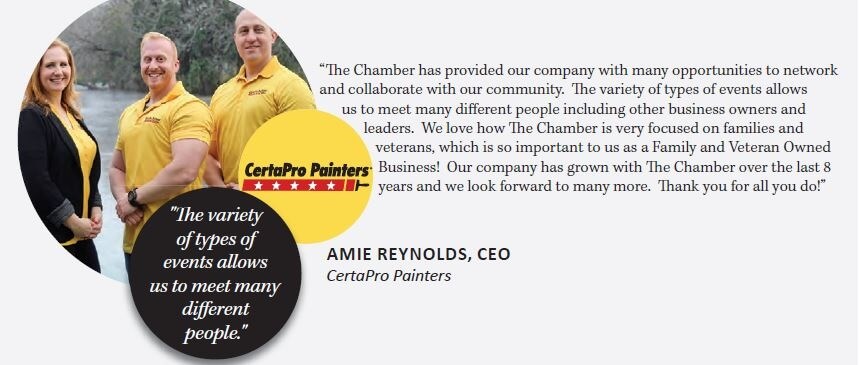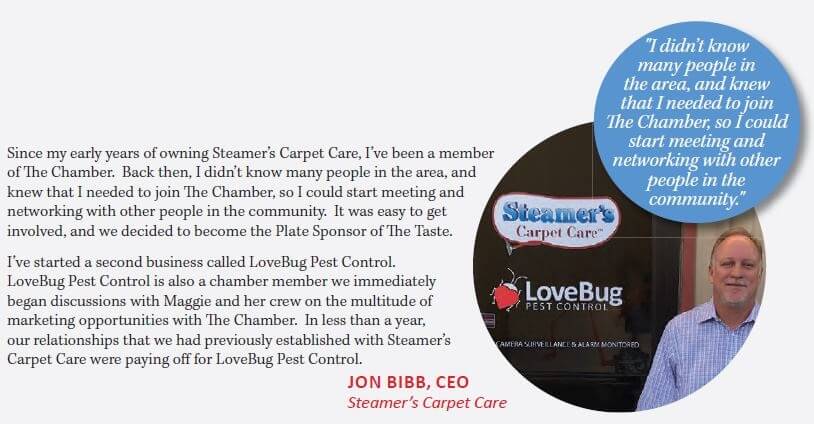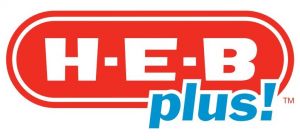 "WOW! The Chamber has been an extremely professional and personal way for our business to be involved with the Schertz Business Community.  It has led to strong ties with both community leaders and business persons.  It has furthered our growth and has given us opportunities to serve that we would not have had without it. The Chamber is not just a business partner, but a supporter and Business Friend.  It is invaluable!"
– Connie Barrera with HEB in Schertz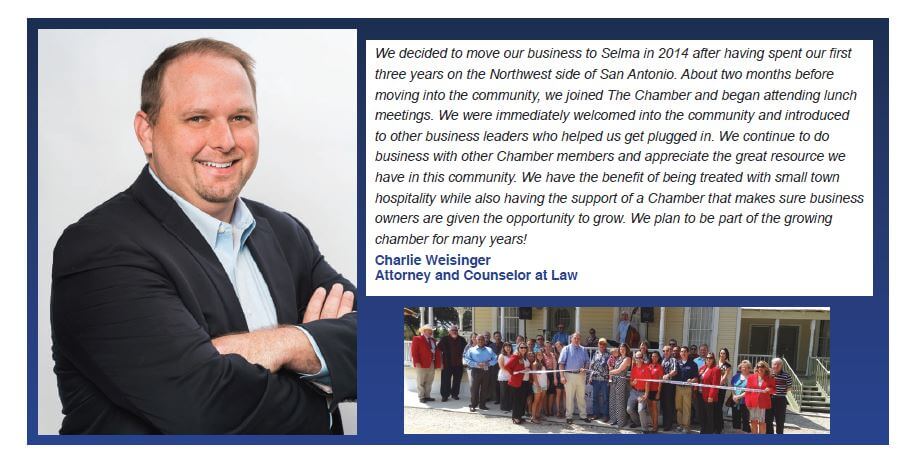 "It has been a great ride, the seed has now become the beautiful flower. I have been truly blessed to be part of this great organization. The best part, was the vision and the people that made it happen!   Honestly, the best part is I got a great friend, Maggie!"
–Jewell Davenport with KDJ Insurance

"The Chamber has been a tremendous resource for my business, keeping me connected with the local business community and the city. The Chamber has provided numerous opportunities to give back to the community, improving the goodwill and marketing reach for my business...I look forward to many more years of involvement with The Chamber of Commerce." - Alex Hartman with Alex Hartman State Farm
"Schertz Bank & Trust is proud to have had one of the founding members of The Chamber, Melvin Golla, now retired.  In my early years I remember him always saying 'supporting the chamber and the community go hand in hand, good things happen' And they have."
–Wendy Griffin with Schertz Bank & Trust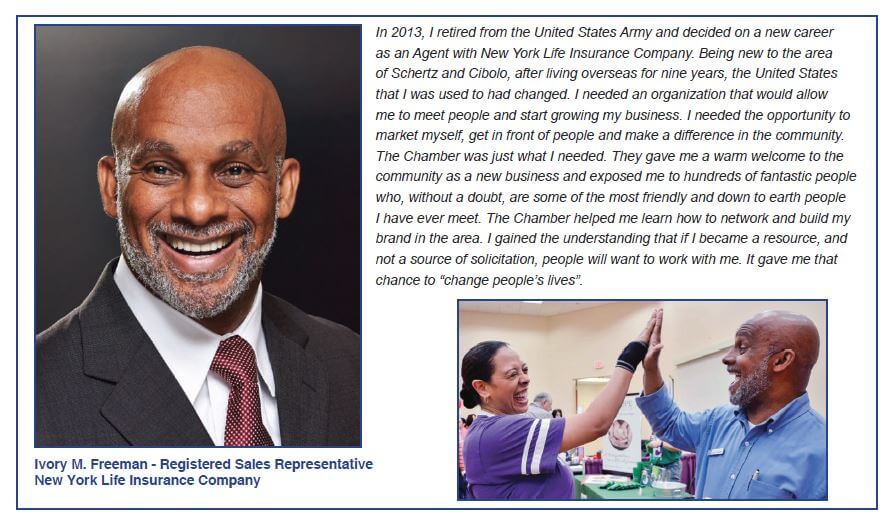 "As a founding member of The Chamber, I feel the growth that we are experiencing is a wonderful benefit for our community. Keep up the good work!"
-Kim Nester-Atiee with Schertz Funeral Home 

"I am proud to be one of the founders of The Chamber of Commerce. Working closely with the city, The Chamber has flourished, growing year after year.  I want to extend a thank you to everyone who has worked with The Chamber, especially Maggie, for her vision and hard work in getting us where we are today."
Thank you, Eric W White

'It's amazing to see how much this Chamber has grown but yet it had kept that small chamber charm.'
-Kelly Smith with LeapFrog Promotions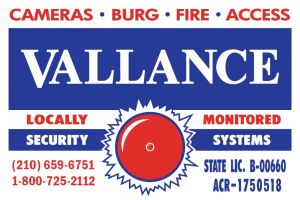 "I just wanted to share a little "story" with you…Earlier this month (maybe last month) I saw an event on the Chamber's Website Calendar for UIW's Adult Degree Completion Program.  While I didn't attend the event, seeing it on the calendar prompted me to further investigate by visiting their website & I found that I could attend UIW fully online. I have considered going back to school to finish my bachelors for a few years now but never found a program & plan that fit my needs & comfort level.I applied to their online program & I am happy to say that I am now enrolled & registered for classes starting Summer I.  I think it's so awesome that even the smallest thing like adding their event to y'alls calendar brought them some business & sent me back to school.  Definitely a win-win situation!  Chamber Works!!"
Lauren Trammell with Vallance Security