Chamber of Commerce Founding Members
The Chamber (Schertz-Cibolo-Selma Area) was first established on June 21, 2005, as the Schertz Chamber of Commerce. The 29 founding Member businesses had their roots beginning in 1974 with the Schertz Business Club, which was dedicated to supporting business growth and the community. At that time, the City of Schertz was a few thousand people strong, and the Business Club was established to help small businesses flourish, and as an organization that would partner with the city in its smart growth goals.
By 1988, the city had grown to more than 7,500 residents, and the Business Club experienced similar growth.  In recognition of the future it embraced, the club changed its name to the Schertz Business Association and it joined a multi-city Chamber of Commerce for the purpose of exposing its members to a larger business body and networking opportunities.
By the early 2000's, the Schertz Business Association had reached a milestone and Association Members faced a growth opportunity to step out and become a full-fledged, independent Chamber of Commerce. The Association voted, and in 2005, the Schertz Chamber of Commerce officially opened its doors. In 2007 and in 2010, the cities of Selma and Cibolo, respectively, joined with the Schertz Chamber, as The Chamber broadened its membership to include not only cities but businesses outside the Schertz area. From the vision, perseverance, and hard work of its beginning Board and businesses, The Chamber grew from 29 Members to our present-day Membership of over 500.
In 2016, once again embracing a future of growth and new possibilities, the Schertz Chamber became The Chamber (Schertz-Cibolo-Selma Area) to reflect the bridging of communities, businesses, and the opportunities that the encompassing name opened up, not only for its Members but area residents and beyond. Our Mission is to Serve, Promote and Enhance Economic Success while using our core values of advocacy, integrity, excellence, and stewardship. Our Vision is Empowering the business community one relationship at a time to have a voice, maximize growth and succeed.
Founding Board of Directors (L to R):
Sharon Pennington: Secretary
John Bierschwale: Vice Chair
Jewell Davenport: Chair-Elect
Melvin Golla: Vice Chair
Shirley Bennett: Treasurer
Patrick True: Chairman
Don Armstrong: Vice Chair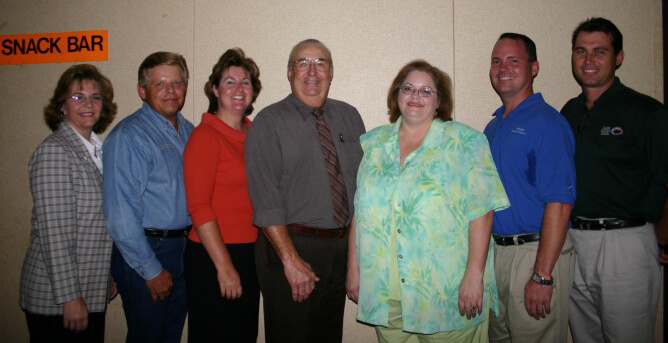 Out of the 29 Founding Members of the Schertz Chamber of Commerce, listed below are the members who are still currently with us today. Thank you for your continued support.